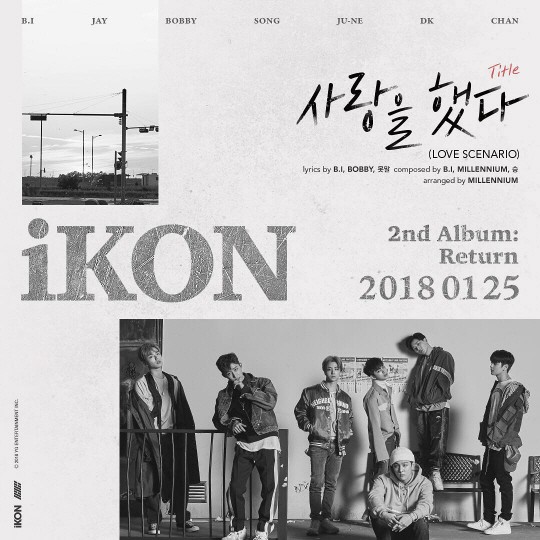 Source
Sports Chosun: iKON, title track 'Love Scenario'… composed and lytics by B.I
Comments
rmfj**** 815+ 9-
ㅠㅠㅠㅠㅠ I'm really looking forward to this comeback❤️
tjsr**** 789+ 11-
Can't wait to hear Love Scenario!!!!! Janaury 25th, 2018. NEW KIDS: RETURN
qwq1**** 763+ 11-
Love Scenario. Even the title of that track is emotional and good already! And a poet worked with him….ㅠ I love it…
chan**** 739+ 10-
Wah ㅠㅠ I'm really looking forward to this comeback~
mind**** 722+ 10-
Welcome back iKON! I hope you do well with this promotion!!! I root for Konies
ltns**** 373+ 4-
I can already feel it from the title. Kim Hanbin's good at writing this stuff. Single title track, not double title tracksㅜㅠ Let's stream please
jiwo**** 357+ 10-
This album will hit daebak!
godj**** 346+ 8-
Wah seriously daebak
wlst**** 341+ 7-
Love Scenarioㅠㅠ I think it will be an emotional song ㅠㅠ
ikon**** 324+ 5-
Even the title is daebakㅠㅠㅠㅠㅠㅠㅠㅠㅠㅠㅠㅠㅠ 20180125 iKON Return!!!!
lsrn**** 285+ 4-
Wah a poet joined in to write the lyrics…. I can't wait for the release!