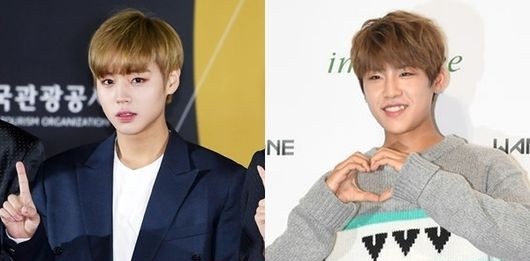 Source
OSEN: Wanna One reps clarify about the video of Park Jihoon's hair being pulled
Comments
clam**** 4883+ 690-
We need to root out sasaengs. Hope Bunssodan's friendship lasts forever! I love you Park Woojin and Park Jihoon
tjkjm4sr**** 4149+ 619-
As a third party, stop guessing the members' feelings and stay still.. Why do you ask for feedbacks on the video of their private life taken by a sasaeng?
sumi**** 4112+ 610-
It's funny to see people asking for feedbacks on a secretely taken video of their private life..
wjdw**** 3438+ 529-
The fans have no right to interfere in their private life. I can't understand why people are fussing about a video taken by a sasaeng in the first place
somi**** 2867+ 484-
I get that people were surprised to see him being grabbed by his hair and I was surprised too, but it's not right to fuss around about what happened between them as a third party. It's part of their private life taken by a sasaeng after all, so they will sort it out by themselves and I hope they hang out safely
cbm1**** 692+ 166-
Park Jihoon, Park Woojin, Bunssodan, I root for you
a120**** 661+ 158-
It's all good as long as they are fine themselves. Bunssodan, congratulations on becoming adults. I will be looking forward to 1st look♥️♥️
qord**** 663+ 175-
Don't guess Jihoon's feelings. It was just two high school students fooling around. I get that that didn't look that great, but they are okay themselves anyway. Do you think Jihoon would be happy if the third party interfere and make a fuss to the point that articles get released about the incident?;
nemo**** 668+ 181-
Park Woojin just pulled his hair for fun to make him seat beside him, and everyone knows the friendship between the two. So anyone trying to come between them should just f*ck off
naya**** 546+ 71-
It's more shocking to see a sasaeng following them to the airplance and taking videos at the back
wngu**** 614+ 158-
I don't think they will be able to joke around freely from now on
tldu**** 502+ 125-
If you are a true fan of Jihoon, please stop. Real fans know Woojin and Jihoon are best friends. They were just joking around. Do you guys want to get an apology from Woojin about it? You can pretty much tell from Wanna One Go that they fool around a lot by punching and hitting each other. There's no problem with two boys playing like that. The people involved are fine about it, so please stop. Jihoon also wouldn't want his friend to be sworn at due to misunderstandings
tlsd**** 430+ 86-
Can't you all read "The two friends are disconcerted too" in this article? That's how they feel right now, so people shouldn't make a fuss about it anymore.
tkfk**** 454+ 117-
You guys are fans. Do you think you are their moms?